Free Multi-Level Battlemap – Port Riverfall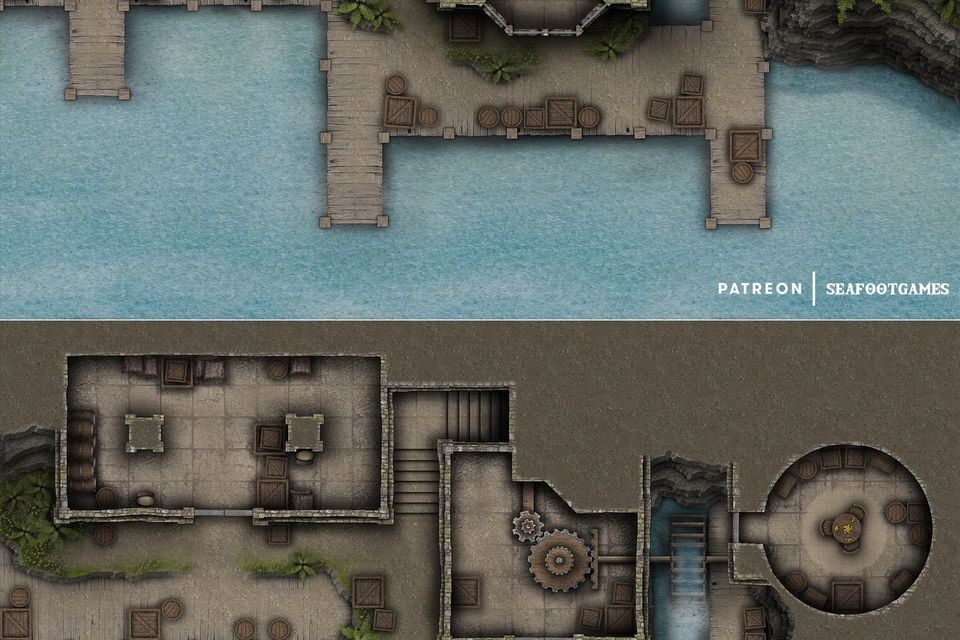 Click image to download this free TTRPG battlemap of a Port Riverfall, then keep scrolling for the detailed adventure prompt written for it ?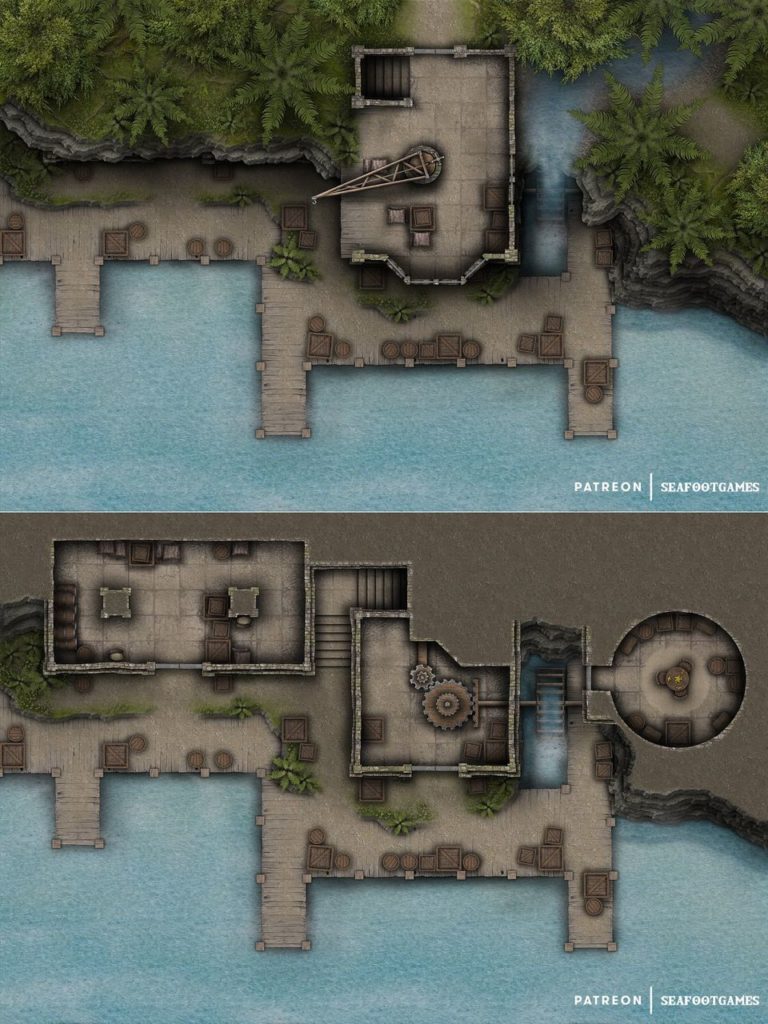 You arrive on the docks to the new lands. As you're leaving however, your eye is caught by a massive metal bound crate that's being lowered down by a crane to the docks below.
Four men on the docks are guiding it via ropes, while another two operate the crane from above. Two dwarven men standing on the docks are yelling at them to be careful. One's wearing a leather hat with crocodile teeth stitched in, a large foreign looking rifle siting on his back. While the other, is wearing a robe and monocle.
All of a sudden the rope snaps and the crate plummets twenty feet to the ground, shattering the metal bindings on one side. Everyone is silent for several seconds before the crate begins to shake. The laborers back up slowly before a hulking man-beast bursts forth, yelling in a broken guttural common-giant dialect.
He attacks the crates of cargo in anger and anyone that gets close. During this time the creature yells in his hardly understandable language asking where his mate is. The dwarfs on the other hand are screaming for someone to subdue the creature but not to kill it, that they need it alive!
If you try and talk to the creature he'll utter words about being ambushed by the dwarfs and other men while with his mate, before he was subdued and put in the crate, that the last thing he saw was his mate lying on the ground in a pool of blood.
If you try and talk with the dwarfs they'll explain that this man-beast has a rare form of blood that can be used in potions to cure common but deadly diseases, however the blood must be fresh. Regrettably they must take him back to the capital city as a slave to be used for his blood for the rest of his days. The suffering of the many out weigh the suffering of this man-beast, or so they claim.
If you'd enjoy more maps like this free D&D battlemap of a Port Riverfall, Luke and I are currently offering 520+ battlemaps for $39. It's your chance to have a great deal on some of our most popular battlemaps! With over 520 total maps, we guarantee that is something here for every GM—no matter what genre or setting you prefer, from grimy dungeons to beautiful overgrown ruins.
Paying just $39 rather than full price saves you over 96%! Take a look at all the extra maps you can download with one click here.