Free TTRPG Battlemap – Ruins of the Great Vault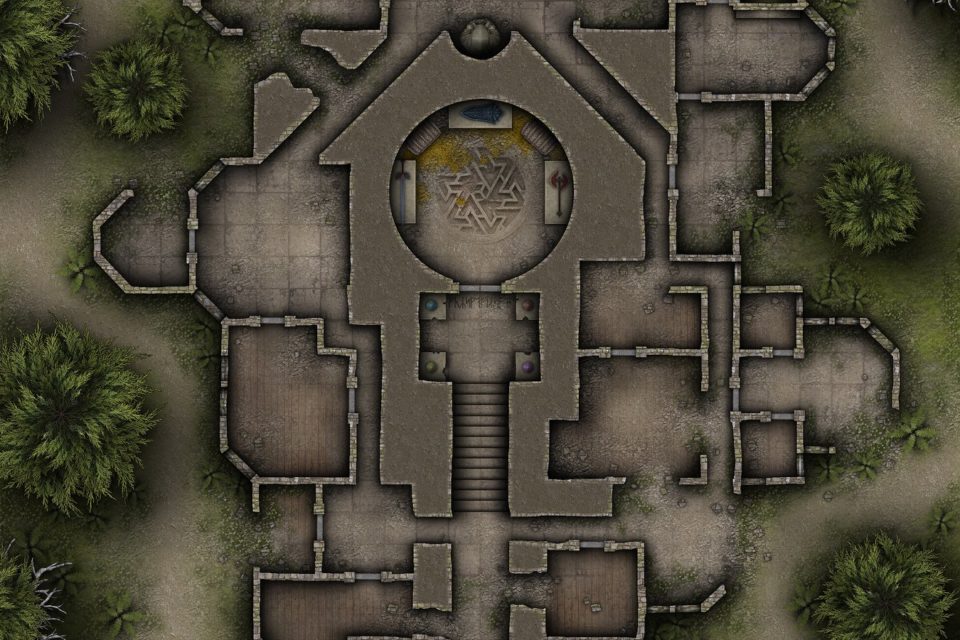 Click image to download this free TTRPG battlemap of a Ruins of the Great Vault, then keep scrolling for the detailed adventure prompt written for it ?
One day a year the ancient manor of the vault appears. It sits above the meandering creek that passes by the village, on a lightly forested hill, its battered form a silhouette on the horizon.
The vault is said to hold treasures and artifacts beyond your wildest dreams, but local folk don't go near the area anymore for it is said that shadowy figures haunt the hillside ruins, and should you spend to much time close to the ruins you too will become one of them…
This hasn't stopped foolhardy adventurers from invading the broken manors grounds, keen on unlocking the vault and plundering its treasures.
When you arrive, the ruins lie empty and silent but for the echo of birds in the distance. Down old, stone stairs you find four colored orbs upon damaged pedestals.
Before you is the large iron doors of the great vault. Engraved on it's surface is a world sliced in half, you can see magma in its core, the trees its surface, the sky above and space with stars beyond that.
The solution to this puzzle is to touch the red orb, then the green orb, then the blue orb and finally the purple orb.
When the vault opens however, a rush of shadows blast past you down the corridor and out of the manor house, leaving only the strange weapons on their altars and great riches behind. When you exit the vault and climb the stairs you're greeted by several distorted shadowy figures which assail you.
What's going on? The vault is imbued with an ancient magic which, when the manor was destroyed, was distorted. This distorted magic seems to be teleporting the vault and the ruins with it to new locations every day, maybe even different time periods.
Living creatures caught within the vicinity during this time are consumed by the vault's magic and, due to the distorted magical effect, turned into evil shadowy apparitions of their former selves.
When the vault was opened these shadowy apparitions were released on the world.
If you'd enjoy more maps like this free TTRPG battlemap of a Ruins of the Great Vault, Luke and I are currently offering 520+ battlemaps for $39. It's your chance to have a great deal on some of our most popular battlemaps! With over 520 total maps, we guarantee that is something here for every GM—no matter what genre or setting you prefer, from grimy dungeons to beautiful overgrown ruins.
Paying just $39 rather than full price saves you over 96%! Take a look at all the extra maps you can download with one click here.