Calagan's Floating Fortress Free Multi-Level Map & Adventure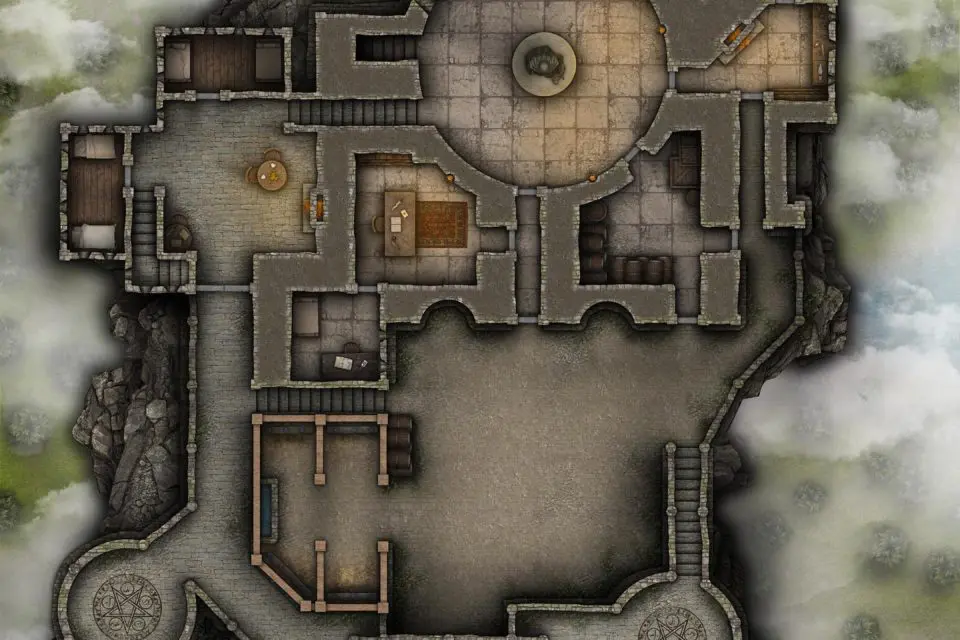 Calagan's Floating Fortress Free Multi-Level Map & Adventure
Terror from the Skies
While visiting a country town, you spot something curious in the skies above. At first, you think it is a large bird hovering among the clouds in the distance, but soon it grows larger and larger, appearing to be some sort of giant, flying rock, with what appears to be a fortress built upon it.
While marveling at the appearance of this strange flying fortress, a flash of magical energy erupts near you, appearing to be some sort of rift. A wild-haired old man in a wizard's robe, bearing a crumpled hat, tumbles through it clutching a tall, gnarled staff. He glances around frantically before spotting the approaching fortress in the sky.
"Good heavens, am I in time?" he blurts, before spotting you standing on the street staring at him in bemusement. "Ah, I see events haven't happened yet, excellent. You there! Stop gaping like a landed fish and pay attention! That flying fortress is coming here to lay waste to this town as part of a campaign to conquer the land.
"My name is Ellet Green, and I have come from the future to stop the horrible battle that is about to take place! You must assist me in bringing a halt to this war before it even starts!"
Should you ignore the urge to run away and step up to help this strange wizard, he looks momentarily relieved, before noticing the fortress moving ever closer to the town. The people who had been standing around watching its approach have grown fearful and are now starting to flee, fearing the worst.
"Right, now then, we need to get onto that monstrosity and give its owner, a powerful sorcerer named Calagan, a proper kick up the backside." If you have the power of flight, you can suggest to the wizard that you could take to the air and head up towards the fortress. Ellet dismisses this as madness.
"It's madness!" he cries dismissively. "They have defenses designed to stop boarders much more powerful than you or I. No, I have a better method of getting us up there, through one of my temporal rifts. I'm getting quite good at this sort of thing, you know. I rarely end up inside out at all these days. Just hold still for a moment." As Ellet begins mumbling to himself, bolts of purple lightning shoot down from the bottom of the fortress, causing a nearby hut to explode!
"Don't rush me," Ellet mumbles as villagers run around screaming. "There we go, just like this!" He casts a spell that creates another rift, through which you can see a castle courtyard, likely to be the very one above you. Ellet jumps through, and should you follow, find yourself standing in the courtyard of the flying fortress, with several startled guards around you!
You have the element of surprise when you press your attack. Ellet assists with magical bolts of lightning and protective spells, and should you defeat the guards, he will point at the fortress stronghold ahead. "We have to find Calagan, but more importantly, disable the magical crystals that give this chunk of rock the power to fly. Inside!"
Should you follow him in, you'll see a number of corridors, all leading to a circular chamber where you are accosted by several wizards with the power to teleport around the room as they attack.
"Calagan's apprentices," Ellet spits. "Rank amateurs, I say. Have at you!" Ellet cries, tossing a small bomb at one of the apprentices who, in a puff of smoke, turns into a startled chicken.
"There you go, finish off the others while I find a way down below." Should you survive your fight against the apprentices, you spot Ellet as he points to a stairwell leading down.
"It was easier than I thought. Come on!" Should you follow, you traverse the narrow stairs and the winding corridor beyond, which leads to a rocky chamber glowing with eerie purple light. Crystals are embedded into the surrounding rock, and before you there is one mass of crystal forming a platform, with a robed man standing on it, clearly controlling the flying fortress with powerful magic. Below it, you can see the town and the open skies between.
"Your tyranny ends now, Calagan!" Ellet cries as he mashes his crumpled hat onto his head.
"You fool," Calagan snarls, whirling to face you and Ellet. "Without me to control it, this fortress will drop and destroy the miserable town you are trying to save."
"Nonsense, I've never met a spell I couldn't figure out," Ellet scoffs in reply. "Surrender, or we shall vanquish you, tyrant!" Calagan simply rolls up his sleeves and prepares for battle!
Should you defeat the powerful sorcerer, Ellet rushes to the controls and attempts to change course. "I need more time to learn this bizarre contraption," he calls over the sound of rushing wind as the fortress drops like a stone. "I might be able to avert disaster if… that's it! I just need to make use of this ample power supply. Go and touch that crystal over there would you? Don't worry, it'll only tingle a little bit."
If you do go and touch the crystal, you feel a strange buzzing sensation as Ellet starts casting a spell. A surge of power around you feeds into it, creating a huge rift below the plummeting fortress!
"Hold on!" Ellet cries as the fortress and everyone on board flies through the massive portal. Unsure what to expect, you are startled to see another flying fortress, just like this one below you, closing fast!
"I took us back in time just a tiny bit," Ellet explains over the rush of wind. "If my calculations are correct, this should be quite spectacular!" He opens another rift, grabs you by the arm and pulls you through. You find yourself standing on the street of the town below, right where you started. Looking up, you see the original fortress plummeting towards its duplicate, and they come together to smash with incredible force, sending them both tumbling to the ground far outside of town!
"Well, that was exciting," Ellet says as he catches his breath. "Crisis averted, I'd say. What's the tea like here? I could use a drink. Oh, and I took some of the equipment from Calagan's body before we left, I think you've earned this." He hands you a small sack with some magic items within, a fitting reward!
See how the adventure for Calagan's Floating Fortress Free Multi-Level Map & Adventure ends by taking your players to The Place Between which this was written for, as well as 16+ locations in our early access Game Master's Adventurer's Guide Bundle, which has over 300 pages of content. You'll get 74 battlemaps with system-agnostic adventures written just for them, maps of the towns, locations, faction lists, important NPCs (portraits included), more adventure seeds, plus digital item cards with loot your players can find! That's at least 74 easy sessions of fun for only $28, take a better look here.