Nightmare Abode of the Unseelie Court Free 40×30 Multi-Level Battlemap & Adventure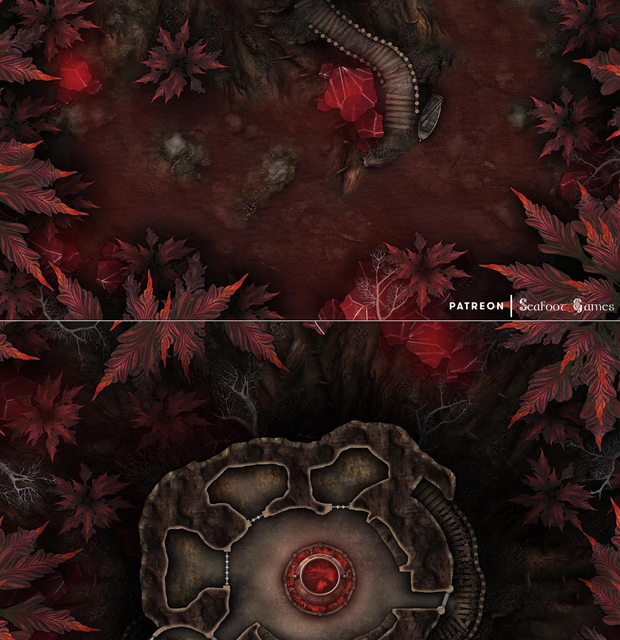 Nightmare Abode of the Unseelie Court Free 40×30 Multi-Level Battlemap & Adventure
Sweet Dreams
When you lie down to rest after a long day, you feel like you're about to fall asleep when your rest is disturbed by a faint buzzing sound. You try to ignore it, but the noise persists. When you look around to find the source of the disturbance, you notice that you're not in the same place you laid down just minutes ago.
You are in an old forest, with trees so tall the canopy blocks out the sun. The leaves are red, the colors of Fall. Some of them detach from their trees and drift to the ground in a perpetual rain of desiccated vegetation. The air smells dry, laden with strange, tangy spices and the unmistakable aroma of death.
The buzzing noise returns and you notice something flitting between the trees. Something small and winged, which hovers for the briefest moment before darting into cover once more.
While you try to figure out what's happened, the small creature flits out of cover and hovers a few feet from your face. She is a faerie no larger than your hand, with tiny pointed ears, diaphanous wings and an expression of unvarnished glee on her face.
"Oh yes, you'll do just fine here," she giggles, flitting about randomly to look at you from different angles. "I'm Elisha, and we're going to have so much fun together!" Should you inquire where you are and how you got here, the faerie laughs.
"You'll find out where you are soon enough," she assures you with a sly wink. "As for how you arrived, it's magic! Perhaps part of you wanted to be here, and the Court has a way of making people's dreams come true. Oops, I've gone and tipped my hand! Come, let me show you."
Elisha flits away, glowing slightly to guide you through the gloomy conditions. Should you follow, she leads you through the trees towards a clearing that lies beyond. Here, you see a huge stump of a once-great tree, which has been converted into an abode for people of your size.
Screams can be heard coming from within the structure, the distinct sounds of suffering and madness. Around the giant tree stump more faeries gather, laughing with sadistic glee at the suffering of people here.
"This is the Unseelie Court, newcomer," Elisha brags, gesturing expansively at the ominous glade. The other faeries greet you with a mixture of applause, derision and laughter, though their attention is diverted from their evil play for only a few seconds.
"You may have been thinking about faeries being all sugar and spice, and all things nice," Elisha continues. "But we're nothing like that. Honestly, how could anyone be so boring? No, we're much more interesting than our stupid cousins and I'll be happy to show you exactly what I mean!"
"Hey uh," one of the other faeries remarks when he looks at you, "are they supposed to have brought all their equipment with them?" Elisha looks at you with a blank expression before a look of consternation crosses her tiny face.
"I thought YOU were supposed to make sure they were unarmed before coming here!" she squeals as she flits away at top speed! The other faeries see you as a threat and close in to protect the Court! They're small but deadly, wielding tiny spears with razor-sharp tips and many of them have fey magic to use against you.
Should you defeat the first wave of the faeries, the abode before you beckons. If you take the stairs and head inside, you see other people tied to the walls, clearly the subject of brutal torture from the evil fey.
"You have to destroy Elisha," one woman whispers weakly. "Only then will this nightmare end. Go!" Should you heed her advice, you can take the stars to the top of the structure where you will find Elisha and a few of her close consorts.
"You've ruined everything!" she blurts, arms crossed in child-like anger. "We will have to make short work of you, but don't kill them my sisters! We want to make them pay for this insult!"
You face off against Elisha and should you defeat her, she lies on the floor breathing her last breath. As she passes, you suddenly feel sleepy. You cannot keep your eyes open, and all turns to darkness.
You gasp awake, looking around you fearful of what you may find, only to discover you have awakened in the place you originally fell asleep! You are uninjured, and left wondering if it all a nightmare, or did it really happen?
If you'd enjoy more TTRPG resources like this Nightmare Abode of the Unseelie Court Free 40×30 Multi-Level Battlemap & Adventure, Luke and I have released our newest Hardcore GM's bundle of 520 large, 40×30″ battlemaps (double the size of those in the Quarantine Bundle) with 255 fantasy adventures for $39. It's your chance to have a great deal on some of our most beautiful maps! We guarantee that is something here for every GM—no matter what setting you prefer, from large cities to underwater seascapes.
Paying just $39 rather than full price saves you over 98%! Take a look at all the extra maps you can download with one click in the Hardcore GM's Bundle here.