Free Multi-Level Battlemap – Remains of the Lightbringer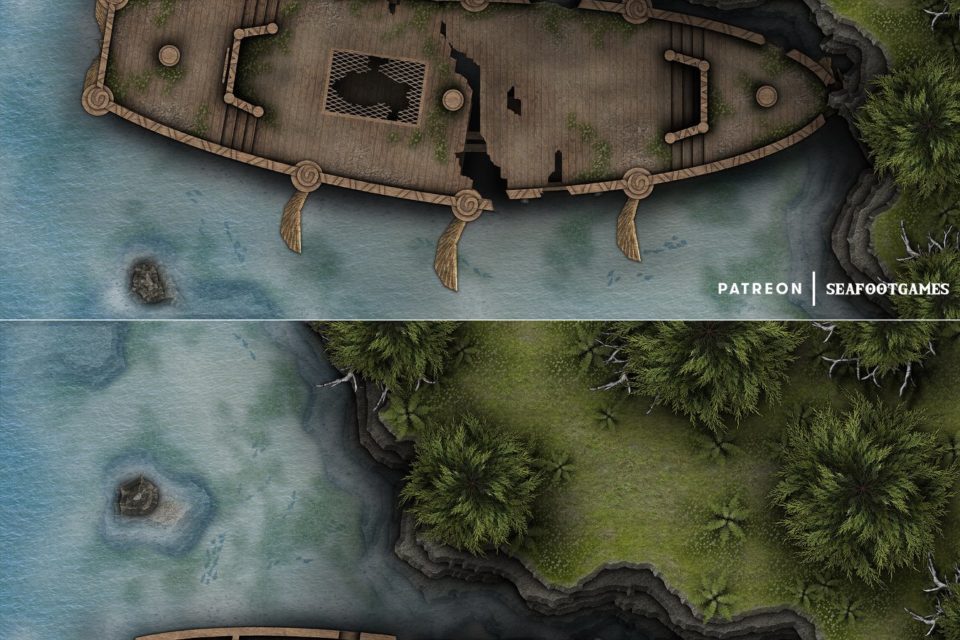 Click image to download this free TTRPG battlemap of a Remains of the Lightbringer, then keep scrolling for the detailed adventure prompt written for it ?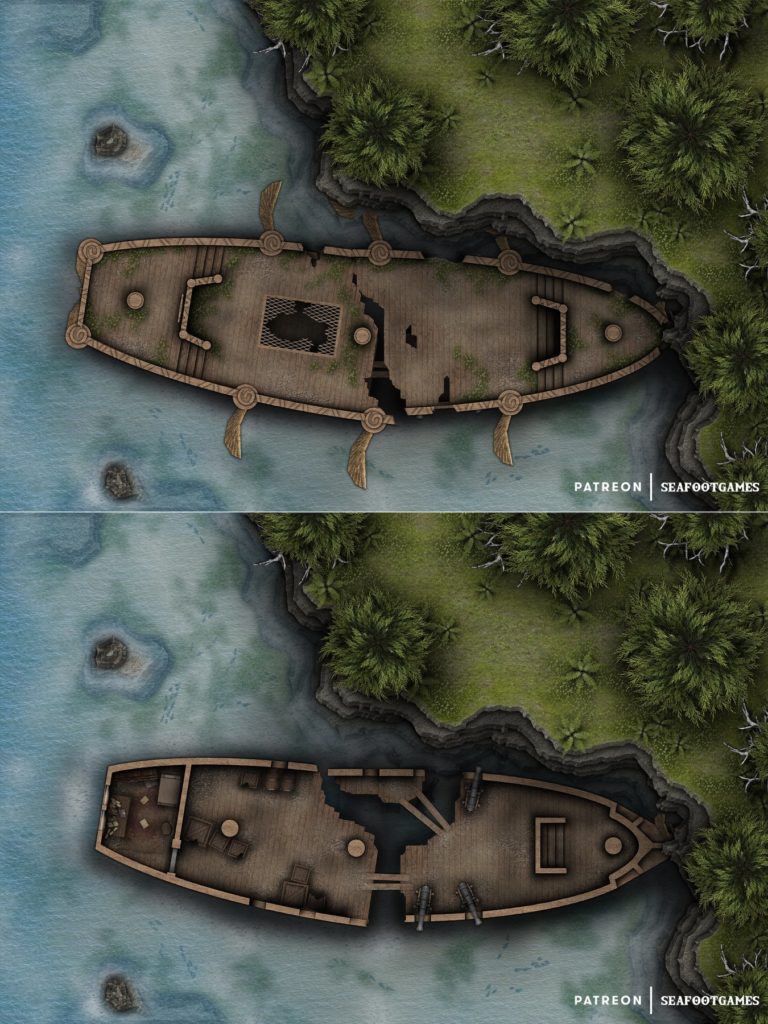 Some months ago the Lightbringer went suddenly missing, the holy fleets finest ship and the vessel carrying the holy books of the god of light. It was assumed that the waves had claimed these holy relics and all hope was lost. However a rumor has spread over the last week that the ships remains have been sighted off the coast of a small fishing village and so you've been asked to investigate and recover the holy books if possible.
If you ask around in the village you can find the fisherman who sighted the vessel, and if pushed he'll confirm that the ship does in fact lie grounded on the coast but claims that when he got closer he saw strange shadows dwelling within and that the ship is cursed. He begs you to avoid the vessel claiming that if intruded upon not only will you suffer the curse but him as well for telling you it's location.
Months ago It was during a stormy night the Lightbringer saw it's end, it's masts broken and thrown into the sea the ship barely made it through the night. Over the coming weeks the crew began to starve and once noble men turned on each other. The captain was killed trying to protect one of the weaker shipmates and both he and the shipmate became food to the others soon after. After another month the ship finally ran a ground but not before the former crew had "died" and risen as monsters for their sins.
Hidden within the remains of the lower deck are group of ghouls along with the holy tomes that rest in the captain's quarters. The ghouls avoid this area at all costs as it causes them pain to be within several meters of the relics.
If you'd enjoy more maps like this free TTRPG battlemap of a Remains of the Lightbringer, Luke and I are currently offering 520+ battlemaps for $39. It's your chance to have a great deal on some of our most popular battlemaps! With over 520 total maps, we guarantee that is something here for every GM—no matter what genre or setting you prefer, from grimy dungeons to beautiful overgrown ruins.
Paying just $39 rather than full price saves you over 96%! Take a look at all the extra maps you can download with one click here.