Free TTRPG Battlemap – Raider's Ruined Temple of the Lost Ark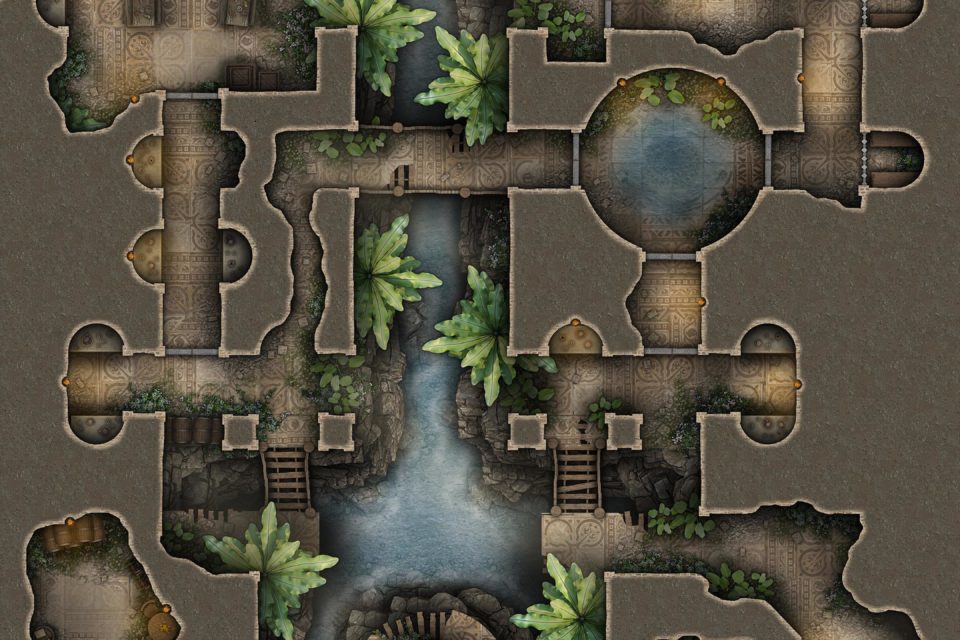 Click image to download this free TTRPG battlemap of a Raider's Ruined Temple of the Lost Ark, then keep scrolling for the detailed adventure prompt written for it.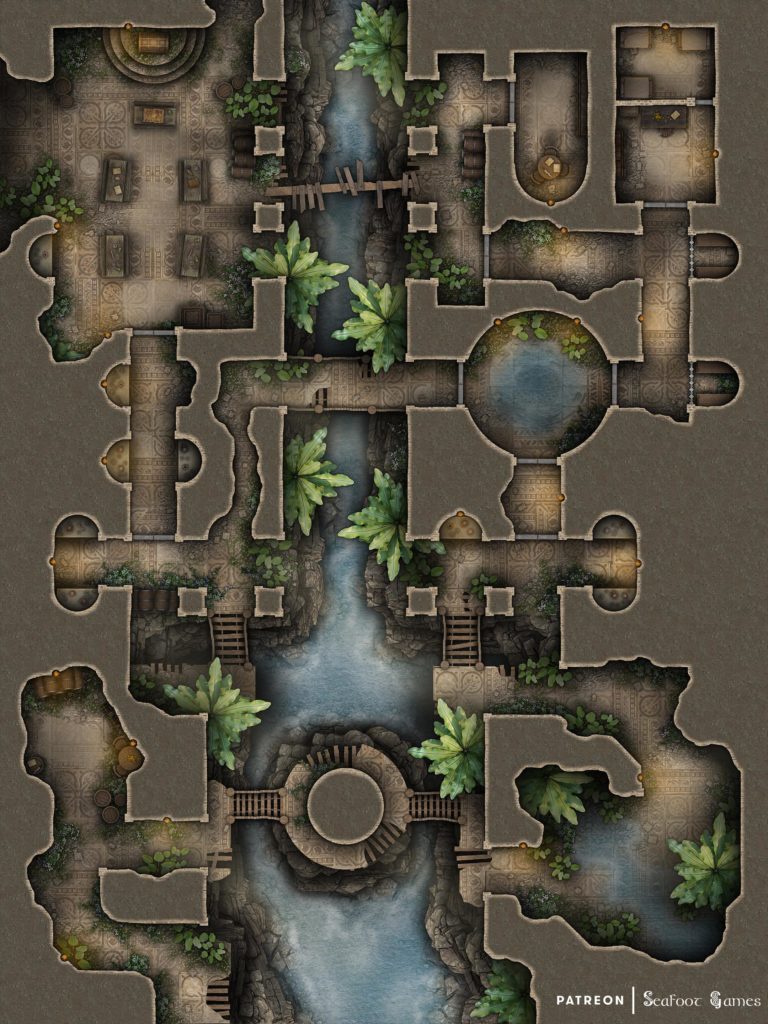 You are hired by a recruiter in a tavern to unlock an ancient chest at the recently-discovered ruins of a temple. It is sealed with magic, as well as physical locks, so their excavation team needs someone's who's good with the arcane arts, as well lockpicking, to open it. If you succeed, you'll receive handsome payment.
They guide you through the mountains to the rest of the excavation team in the temple. Only, once you arrive, you are greeted by three dirty men seated at the entrance—who the guide doesn't recognise.
WHAT'S HAPPENING? After the guide left to recruit the help the excavation needed, bandits took over the site. The group of historians hadn't expected to be attacked in such a remote location, and only had two guards with them.
The bandits have locked the historians up in two tiny cells, which are very uncomfortable for a team of about 10 people. In the meantime, the outlaws have been going through the excavation's food stores while trying to unlock the chest.
The excavators told the bandits that they hired some people to open the chest, and upon seeing your party they will guess you're the team. The bandits tell you that they have a new deal for you, and that if you help them open the chest they'll give you a share of whatever's inside.
Will you help the bandits, leaving the excavators as prisoners, or will you risk your life to save them?
The chest itself is made of brass, with gold bindings, and has melted into the stone beneath it. It radiates warmth and is hot to the touch. There is spiteful fire djinn trapped within, and if released, he will emerge with a flaming sword and thank you for freeing him. However, he will not return to his realm empty-handed after such a long time; when he returns, his castle will need sprucing up, and to do that, he needs slaves.
As you were kind enough to release him, he will spare you. But, depending on which group has survived, he will demand either the bandits or the excavation team be handed over to him as slaves… If you refuse to give either of them, he'll attack.
If you'd enjoy more maps like this free TTRPG battlemap of Raiders Ruined Temple of the Lost Ark, Luke and I are currently offering 520+ battlemaps for $39. It's your chance to have a great deal on some of our most popular battlemaps! With over 520 total maps, we guarantee that is something here for every GM—no matter what genre or setting you prefer, from grimy dungeons to beautiful overgrown ruins.
Paying just $39 rather than full price saves you over 96%! Take a look at all the extra maps you can download with one click here.